Events
Avengers: Endgame Premier Movie Night
National Cancer Foundation hosted a Movie and Silent Auction Night on 2 May 2019, at the Capri Theatre in Goodwood, SA.
The funds raised were used to provide private and dignified accommodation for remote and rural Australians who need to travel to receive life saving cancer treatments.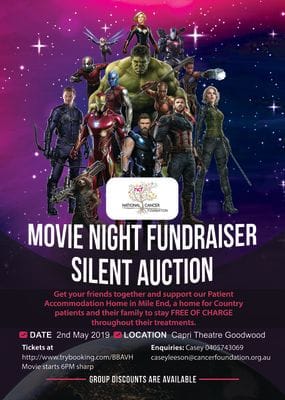 Entertainment Books
Do you like to save money while enjoying delicious meals? Would you like discount vouchers for activities, car hire, hotel and resorts stays, and great sports and attractions? Filled with discount vouchers of up to 50% and a great seletion of 2-for-1 vouchers, the Entertainment Book is not just a great way to save money and find new favourites, but helps promote the charitable programs of National Cancer Foundation as well.
Please contact us by email or phone on 1300 885 354 for more information or to buy one of these great value books.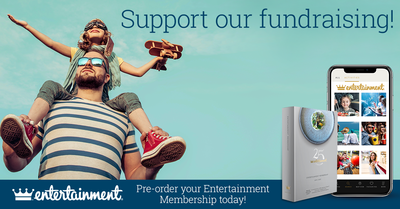 Private Fundraising Events
Would you like to raise some money for National Cancer Foundation?
Would you like to take part in a fun-run, marathon, or other sponsored event, with the proceeds going to National Cancer Foundation?
Would you like to host a morning tea or other social event, where your guests contribute to National Cancer Foundation?
Yes? Then we'd like to say a big THANK YOU for your support!
It's easy to raise funds for a charity you feel passionately about. The first thing to do is decide what sort of event you'd like to take part in.
Is it an organised event like a fun-run/walk, or a marathon? Then well done to you! Not only are you helping people less fortunate than you, but you're also doing something good for your body, which is a good way to stay healthy, and reduce your risk of developing many forms of cancer. The second thing to do is to start raising funds, and the easiest way to do this is to register through EverydayHero. Through that site, you can set up your own, personal, fundraising page.
You can fully customise your page, then send links to your family and friends, through emails and social media, then people simply go to your page to donate. You can set yourself a target, and watch to see how much money is pledged on your behalf. Easy! You can also write comments and feedback to the people who have generously donated. Most major fun-runs are already set up on the EverydayHero, so it's easy to get started. Your friends donate online through a secure environment, and the donations go straight to National Cancer Foundation - there's no need to chase people up for their contributions, and no need for them to provide their information on an unsecured site, plus they get a receipt for their tax deductible donation straight away!
If you're taking part in a smaller event, you can still set up a page on EverydayHero. You'll just need to describe your event for your family and friends, so they know what you're putting yourself through, in the name of charity. This might be colouring or cutting your hair, hosting a morning-tea or social event, or even just sharing your passion for raising funds for National Cancer Foundation. The options are endless, and it's your passion and enthusiasm that will make all the difference.
If you're not as computer-savvy as you like, or you prefer to go a bit more old-school, then you can register to hold a fundraising event directly with us. Please fill out an application form, so we know who you are, and what you plan to do, then we'll send you a letter you can use to tell everyone about your event.
If you would like our help with the event, we're happy to provide brochures, and small thank-you gifts to give to your donors. For major events, we have other options that may help you, and we're happy to give you a shout out here on our website, along with a link to your fundraising page, to help people give to your event. Please contact us for more information.
There are currently no events, please check back soon.